Since my post on The Goth Closet was so amazingly popular [insert :-) here!], I figure, why not elaborate on the theme? Maybe I can put some ideas out there that those interested haven't thought of yet. And they might have some new ideas for ME.
I'm going to focus on working people as opposed to full-time students, since students usually have a LOT more leeway in dress, and because when I was a full-time student (1979-1981) I was still in that stage where I usually just wore what everyone else wore, mainly jeans and t-shirts. My BIG fashion statement back then was wearing clogs to campus, which almost no one else did. So I don't really feel qualified to talk about campus fashion, even though I work at one. I will say, though, that in the 15 years I've worked at this university, I don't recall seeing even one other person who was obviously goth, even in my classes. ::SIGH::
I have to admit, when I started gothing up my wardrobe I was worried that people would think I was going through a mid-life crisis or something stupid like that. (When my ex hit his early forties, he got a divorce and about a million piercings, mostly in his ears but also in his lip, eyebrow, nose and, so it's rumored, somewhere else. Thank the gods, the divorce came first.) I celebrated my own new-found freedom with two small but meaningful tattoos; my new boyfriend and I both got ours at the same time. This was my first foray into 'alternative' style, and I decided that I liked it.
Clothes are a lot easier and less painful to get than tattoos, and we have the advantage of trying them on first to see if they look good on us. They're also not permanent; we can change them or get rid of them as we grow, shrink, or just change our minds about how we want to look. However, we agonize over our clothes, and what we think people will think of us when we wear them, FAR too much. Your clothes should be both fun and meaningful, stating who you are and what you like, not what you think someone else will approve of. But getting up the courage to do that takes time for most of us, especially for women, most of whom are trained from birth to seek approval from others. It was worse in my growing-up years than it is now, but that mindset hasn't gone away.
I started by wearing just one or two gothy pieces at a time, like a skull t-shirt or a gravestones necklace and earrings set, to see what kinds of comments or other reactions I got from coworkers. When nobody said anything negative, I got braver and showed up in more elaborate outfits. To date, the closest thing to a negative comment I've gotten is, "That's an... interesting... shirt." I just gave the guy a big smile and said, "Yes, it is, isn't it?" (I think skulls are VERY interesting, actually, so I enjoy wearing them on shirts.)
I've found a LOT of my favorite goth jewelry and clothing items in thrift stores and Etsy shops. I like buying at thrift stores because I find older items that are now one-of-a-kind, unlike when they were new, and at a thrift store they're also CHEAP. Etsy items are also often either one-of-a-kind, made in small batches, or made to order, since these are small businesses run out of people's homes. I've had more than one custom order done, and am very satisfied with all of them. The prices in most shops are pretty reasonable, and many sellers offer discounts or have seasonal sales, so you can 'favorite' items you like and check to see if/when they go on sale or a discount is being offered. Some shop owners are also open to reasonable offers and/or trade.
Here are a few of my favorite Etsy shops and some items I've bought from them. These are all items I have worn to work (except the last one!), and the ribcage t-shirt and snake vertebrae earrings are the ones I mentioned in my previous Goth Closet post.
Banyan Tree Clothing -- These skeletons glow in the dark!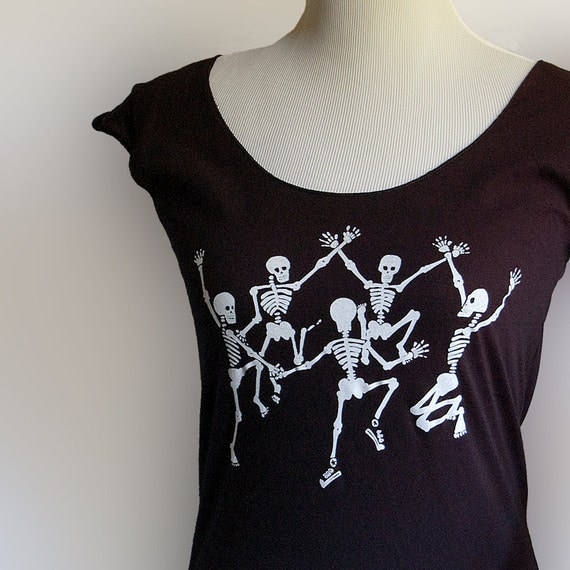 Bigtime Tees -- Gotta love this classic t-shirt! And from TheGreenWolf -- My snake vertebrae earrings.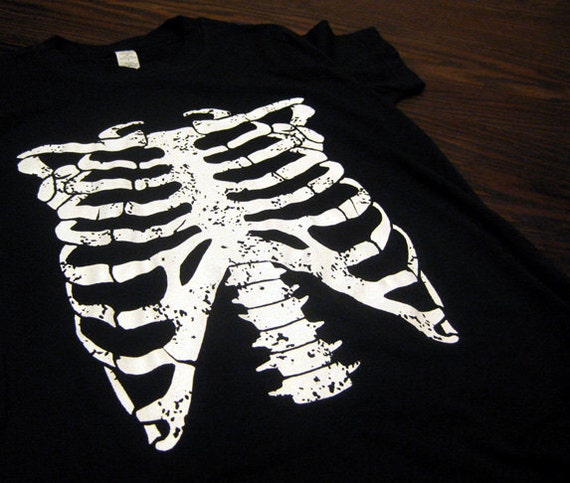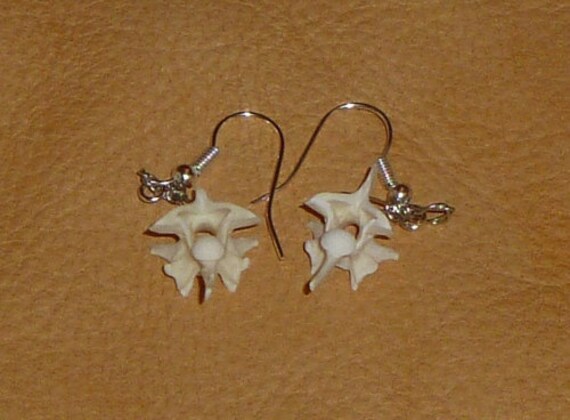 Strangexchange -- These earrings go great with the two shirts above.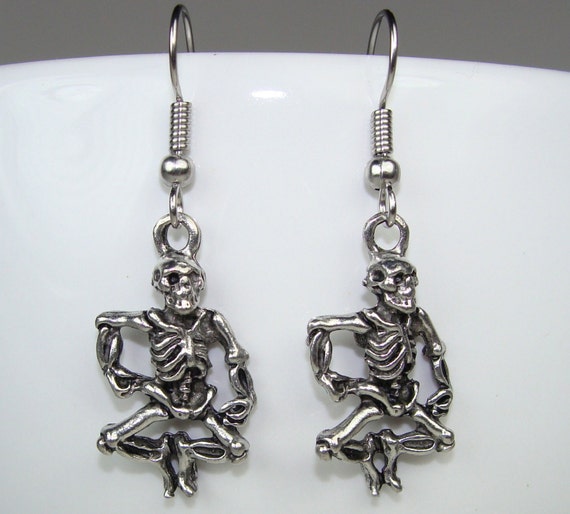 Funkomavintage -- I LOVE this skirt!!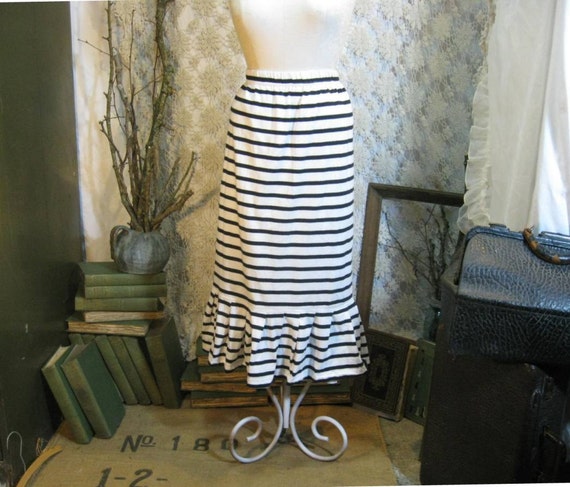 Zorra's Vintage Emporium is now closed, but I got this 80's leather coat for $40, shipping included!!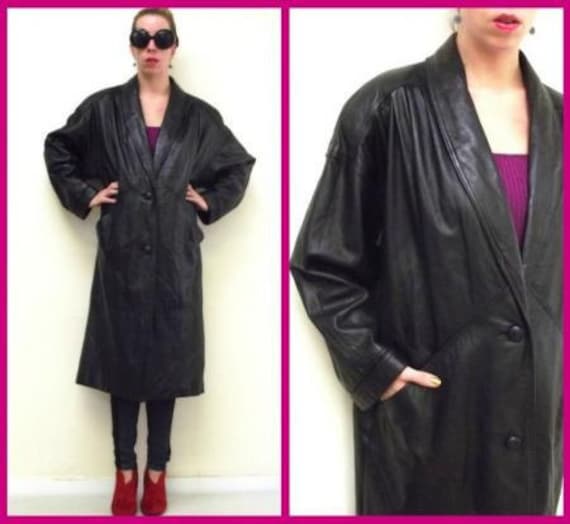 SickOn Sin -- This is one of my all-time favorite shirts. He's so... CUTE.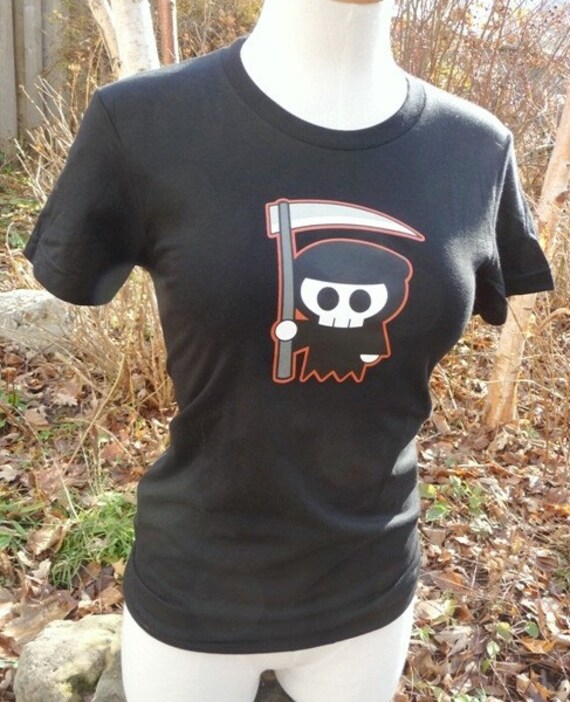 Delightfully Deviant -- You should see the grins I get when I wear these bloomers grocery shopping...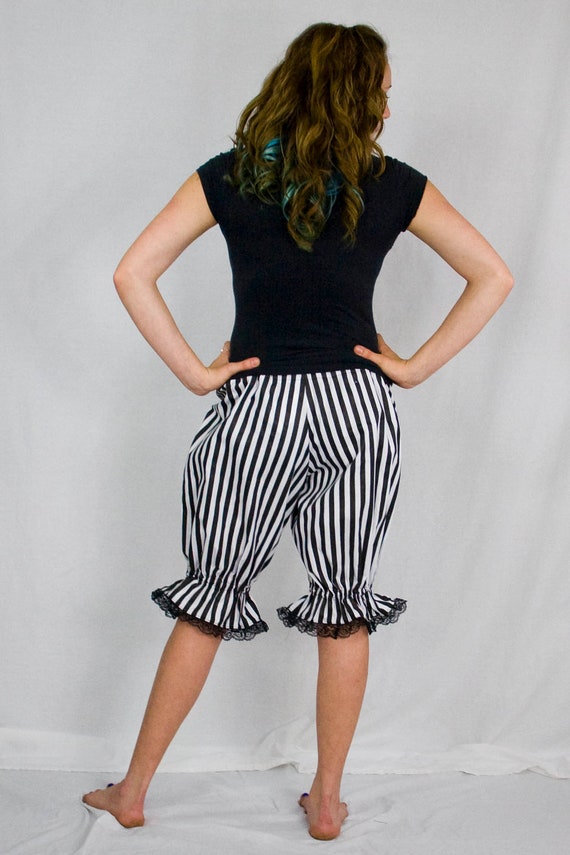 Shoes are another story entirely, so I'll save them for another post.
So, I've shown you mine, now you show me yours. Where do YOU find your favorite goth clothes?