The other night I was hosting a 20-minute pity party for myself because I'm still not working in a museum, and I had a small brainstorm about what I'd like to do to at the REM. Since I don't work there, I thought I would share it with you and see what you think. (I know this post isn't particularly goth, but just think about the mummies, and that should help.) ;-)
The museum itself was built in 1966; while the outside was modeled and painted to resemble a temple of the Amarna period in ancient Egypt, the galleries inside are pretty standard "traditional" museum rooms, with blah beige or brown walls and carpets with glass and plastic cases painted to match. BOR-ring!!!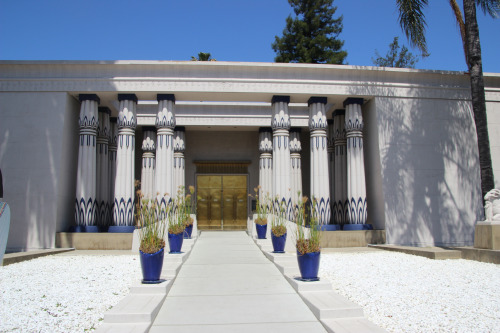 Splendid outside! :-)
Ho-hum inside... :-(
Too many people think of museums as dusty rooms full of cases of "boring old stuff", with boring cards giving them bits of information they don't care about and will forget before they walk out the door. The way I see it, these galleries could be spiced up quite nicely just by painting them as though they were the inner rooms of an Egyptian tomb! Especially the areas where the mummies are, as their names (if known) could be painted in hieroglyphs either above or below them, with appropriate prayers or other things as well (with English translations, of course). See those two people in the back right, behind the replica of Tutankhamun's golden coffin? They are looking at the Mystery Mummy, fondly known as NoNameHotep by the docents when I was an intern there. Look at all that dark, empty space on the wall behind him and around him; wouldn't it be much nicer if it were decorated with hieroglyphs and beautiful things, or at least pictures of them? I imagine this is NOT the kind of afterlife he had in mind!
I think most museums should be "redecorated", so to speak, every 5-6 years so that patrons don't get tired of the same old thing. And I would want to get input from the museum members -- you know, those people smart enough to buy memberships to the museum because they want to come frequently and don't want to have to plunk down cash or plastic every time they walk through the doors. My game plan would be to send out surveys to all the museum members, regardless of their membership type (to get the starving students, the rich socialites, AND everyone in between!), letting them know which galleries are going to be updated and asking for their ideas, complaints, fantasies, and suggestions of what to keep and what to change. When the updated gallery is ready to open, there should be a special "Pre-Opening Members Night" when ONLY members are allowed to visit, before the gallery is reopened to the public. And those members who submitted their surveys should be listed on a temporary board hanging just outside or inside the gallery for a few months, so they can see their names in print and feel like they've contributed something.

Yes, I know that this kind of thing is time consuming, and I also know that you can't please everyone, but I think that museum patrons would feel more like it was their museum if they were encouraged to provide input, and then got patted on the back for doing so. They might come more often AND encourage friends and family to do so as well. And museums like the REM that house ancient things don't get as many updates and "face lifts" as those with more modern or technological exhibits, so I feel they need to be a bit more concerned about keeping the term "boring museum" as far away from them as possible!
So, what do you think of my ideas? You've all been to various kinds of museums, I'm sure.Which museums have impressed (or depressed) you, and why? What kinds of things would you like to see changed or added? What would you want to remain as it was when you saw it? What would be the ideal museum for YOU?