Yes, I'm greedy...
GothGardening
is having another contest, and I want to win!! But really, that's just an excuse to write about one of my favorite things... BATS!
Even before I discovered the goth subculture, I've loved bats. When I took my son, who was four at the time, to a Cub Scout weekend camp, there was a bat under the door flap of our tent, and when I opened the flap I accidentally flipped it inside. Instead of screaming and/or running, I called to him, "Hey, Stuart, come quick, we've got a BAT in our tent!" But it flew out before he could get there, so all he saw was this little black streak zipping away through the air. Bummer, dude... All the other kids around us thought it was cool, though. :-)
Bats are not only CUTE, they're also ecologically awesome! Did you know that:
~A single brown bat can catch around 1,200 mosquito-size insects in one hour; a small colony can eat over 6 million bugs in a year.
~An anticoagulant found in vampire bat saliva may soon be used to treat human cardiac patients.
~Some seeds will not sprout unless they have passed through the digestive tracts of a bat. Additionally, bats spread millions of seeds every year from the ripe fruit they eat. Approximately 95% of the reforestation of the tropical rainforest is a result of seed dispersal from bats.
~Bat dropping is called guano and is an important fertilizer in many tropical regions because of its high levels of phosphorus and nitrogen. During the Civil War, U.S. soldiers used bat guano to make gunpowder.
~In China and Japan, bats are symbols of happiness. In Chinese, the words for "bat" and "good fortune" are both pronounced "fu."
~Bats make up a quarter of all mammals; there are over 1,100 species of bats in the world.
BUT...
~More than 50 percent of bat species in the United States are either in severe decline or are listed as endangered.
So you see, it's important to keep our bats happy and healthy! We don't realize how much we need them.
Finally, here is a pic of the holiday cards I sent out to all my goth friends this year. I actually bought them LAST year on Christmas Day, just to make sure I had them!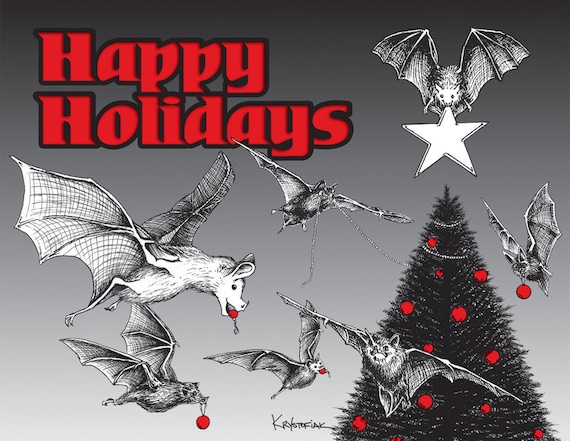 This card is currently available at
Elipsis Design on Etsy
. Check it out, along with all the other awesome small businesses on Etsy!
And although it's a bit early yet, have a Very Batty Christmas, everyone!